The chilly winds, cool days and nights have arrived for many grateful Aussie families.
Winter is finally here, you will notice the fabrics and fleeces changing. Winter Designs are well under way and with that which type of Cosy Winter fabric will you use for your designs. Let's not forget it needs to be cosy and comfy too. After all, we want our bubs and kids, heck, even ourselves, to be as snug as a bug in a rug this Winter.
So, What is the difference between French Terry and Fleece Fabric? I often get asked this question, and it's an important one particularly if you are wanting to find the best fabric for printing – On The Baby Blanks Blog we'll be exploring the differences between two types of fabric and which of the two offers the best ROI when it comes to printing and also sustainability.
Both fleece and French terry are used to create many types of loungewear, such as comfy house pants, snuggly jumpers, cosy hoodies. comfy Tracksuit Sets that seamlessly move with the body for squirming babies and active kids. The secret to recognising different types of fleece and french terry lies on the inside surface of the fabric. The inside of fleece and french terry look a lot different. Fabrics are also sometimes referred to as being 'brushed' or 'unbrushed', French terry is made by the process of thread woven to create a plush, looped look. Fleece, on the other hand, you get the fuzzy look with brushing. which I'll explain.
Brushed & Unbrushed
French terry and fleece: their similarities and differences
The inside of french terry and fleece fabrics have a raised surface, but they look quite different. On the inside of French Terry you will see raised loops, which you won't see on fleece. The absence of these loops on fleece is due to the fibres being cut, so they stand up. This is referred to as 'brushed' or 'cut' fleece. It makes the fabric thicker. The loops on the inside of French Terry are 'unbrushed' or 'uncut'.
Brushed fleece – fibres are brushed or cut to stand up and create a plush surface.
Unbrushed fleece – has clearly visible loops on the inside and remains unbrushed or uncut, creating a flatter surface. Most common on french terry.
What is fleece?
Fleece is soft and plush. The plush effect comes from the fibres being 'brushed' in order to raise them and make the fabric thicker. It's what makes fleece extra warm.
Most fabrics referred to as fleece are made from polyester, making it light-weight and water resistant. Thick fleece provides maximum warmth, which is why it is commonly used to make outdoor clothing. The downside of being water resistant is that it doesn't absorb moisture from the body.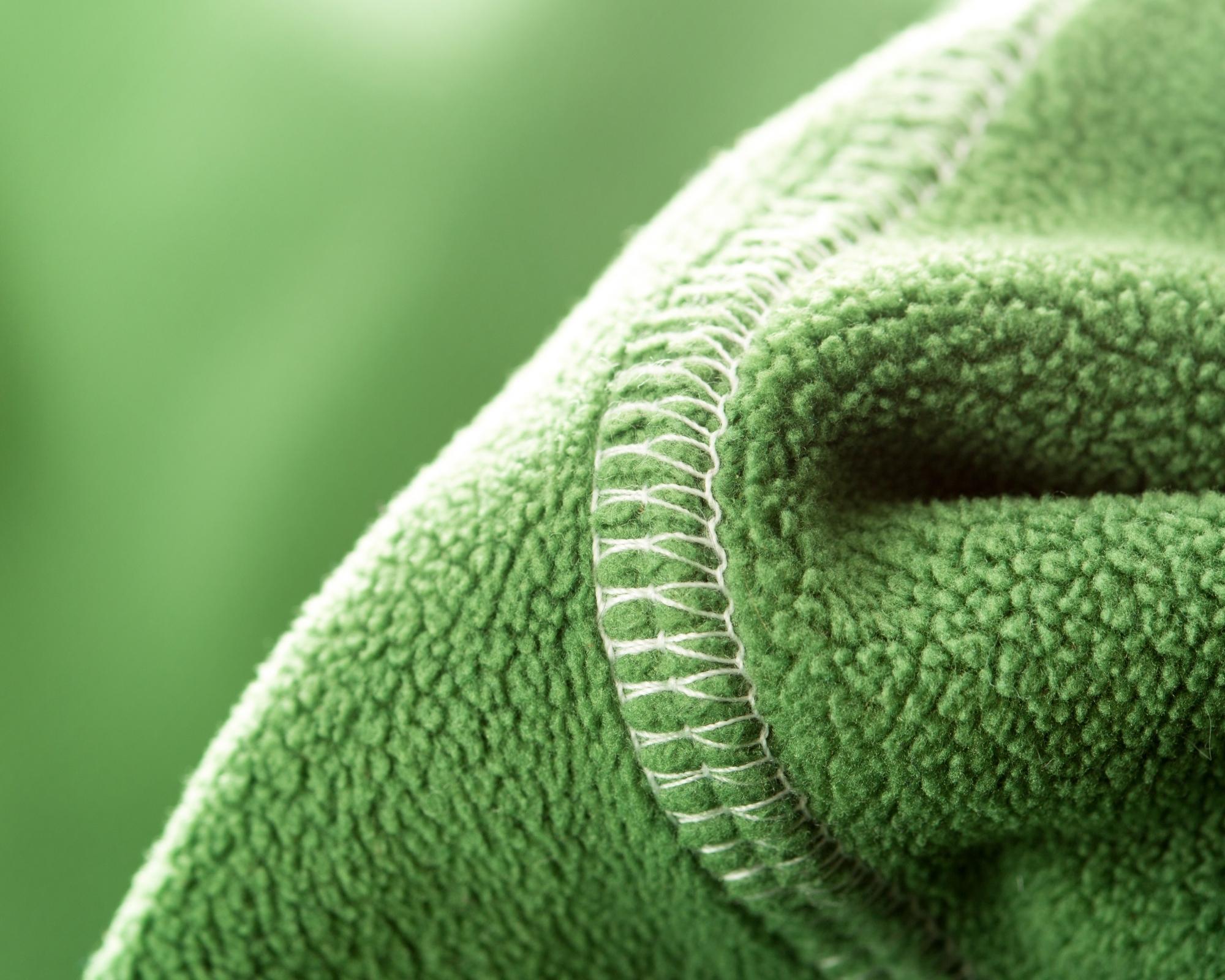 Qualities of fleece
Usually made from polyester
Smooth or fuzzy outer side
Brushed on the inside for a plush effect
Waterproof
Not good at absorbing moisture
Ideal for providing winter warmth.
What is french terry?
As we've seen, french terry fabric is identified by having raised loops on the inside, with a smooth outer side. The loops are 'unbrushed'. We all probably have something made from french terry in our wardrobe, whether it's a pair of track pants, a hoodie or jumper.
Unlike a lot of fleece fabrics, french terry is made predominantly from cotton and is very good at absorbing moisture from the body. As a flatter fabric, french terry is not as warm as plush, polyester fleece and is considered a mid weight fabric.
Qualities of french terry
Usually made from cotton, but can also include polyester, lycra, rayon or spandex.
Smooth outer side
Loops on the inside
Good absorbency
Mid weight fabric, ideal for trans seasonal wear.
Which is best for me?
Understanding the differences between fleece and french terry fabrics will help you to select the best fabric for your project and will give an indication of durability and how your fabric will respond to different types of printing.
Durability
How a fabric is constructed and the type of fibre it is made from influences how well it looks and retains its shape after repeated washing and wear. Pilling occurs when fibres break and form small tangles on the surface of the fabric.
French terry is constructed with strong, dense fibres, meaning the fabric does not pill. It also has a tight knit, which helps retain the shape after repeated washes, and keeps it looking good for a long time.
Fleece fabrics made from a combination of cotton and polyester are more prone to pilling, which reduces the quality and lifespan. Polyester retains its shape well, but attracts dust and lint, due to it containing a lot of static electricity.
Printing
Some fabrics are better for printing because they respond better to heat and dye. Being made from cotton – a fiber which responds well to heat and absorbs dyes well – french terry produces consistently high quality printing results.
It can be more difficult printing on some types of fleece. Fleece fabrics can be quite thick and it can be a challenge to keep the fabric from shifting during printing. Polyester is also much harder to print on, because it doesn't respond as well to heat pressing.
Environmental impact
As many of you already know, it's important for us here to reduce the environmental impact, wherever we can, and this has influenced the choices we've made at Baby Blanks. I've come to understand that there is no environmental 'silver bullet', but it is possible to make better choices.
Fabrics have different environmental impacts, depending on what they're made from and their quality. We use the highest cotton content fabric we can, and we invest in quality manufacturing in order to produce a fabric that will be durable and stay looking great for longer. When we consciously choose quality and durability, we are investing in our future, by choosing materials that have a longer environmental lifecycle.
Fleece or French Terry?
Fabric quality and content is the most important factor to consider when it comes to printing quality. Durability and environmental impact is also becoming increasingly important for consumers, with a move to slow fashion and conscious consumerism.
When it comes to choosing between fleece and french terry, cotton french terry is much more predictable as a base for printing than high content polyester fleece. Both fleece and french terry are durable fabrics, with french terry suitable for all year wear, and fleece more suited to colder weather wear.
What's your experience?
We love hearing about the fabrics you enjoy working with and wearing. Let us know about your printing experiences with french terry or fleece, and the fabrics you most love to wear.